Bring it!
HaloVino shatterproof wine tumblers snap together to make wine taste amazing! Stack & Stash these lightweight, but sturdy tumblers in your purse or backpack for wine on-the-go. Even better, HaloVino is recyclable and dishwasher-safe so you can "Bring it!" for a life with More Wine. Less Waste.
Shop All
Featured In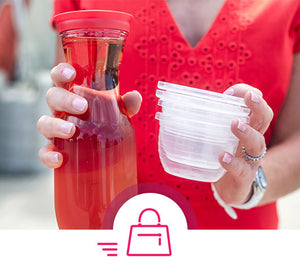 Portable
HaloVino weighs less than an ounce, and stacks into itself... but can hold a half bottle of wine!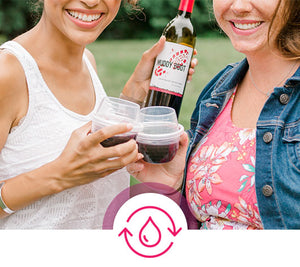 Dishwasher Safe
Fill. Drink. Repeat. That's right, you can use this glass again and again.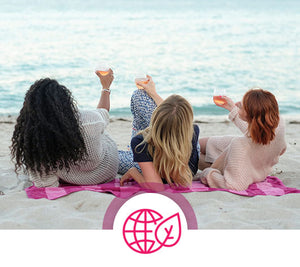 BPA Free
Feel good about your wine drinking experience from beginning to end.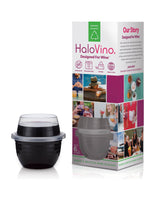 Designed for Wine
Unbreakable, stackable & dishwasher safe wine glasses that go wherever you go. Perfect for concerts, tailgating, pools, picnics, boating, camping & the beach!
Shop Now
Designed for Fun
We want to support your sustainable on-the-go lifestyle, so we created HaloTote!  Designed for HaloVino Wine Glasses, fits easily in your bag, purse or backpack, and easy to carry with attached carabiner!
SHOP NOW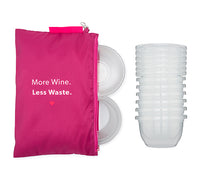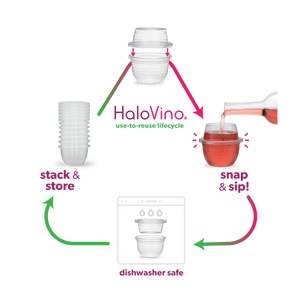 Designed for Zero Waste
HaloVino's patented two-piece design transforms any experience into a wine experience. Whether you're on the patio or on-the-go, just grab a HaloVino and Snap & Sip. When you're finished, don't forget to wash HaloVino for reuse, then Stack & Store while you plan your next fabulous experience. 
Shop Now