We believe no plastic cup should ever hit a landfill again.
Sounds pretty ambitious, doesn't it? But we didn't come out the gates trying to take on one of the world's most pressing environmental threats. In fact, we have quite humble beginnings, solving a seemingly unrelated problem:
How do we enjoy wine without glass?
My patented solution to that problem, HaloVino shatterproof wine glass, got us into the doors of major theaters, festivals and stadiums. As we looked around, we quickly realized there was a much, MUCH more pressing problem that needed our help:
How do we enjoy life without single-use plastic?
HaloVino is uniquely positioned to help prevent plastic cups from going to landfills because we use technology to produce reusable & trackable cups in a circular economy to ensure our consumers and businesses can go Zero Waste when drinking on-the-go.
We are proud to support our local economy with both our offices and manufacturing facilities are headquartered in our home state of Wisconsin.
We are looking for forward-thinking colleagues, consumers and companies who want to lead the charge toward a waste free economy… are you ready to join us? Learn more here.

Jessica Bell
Inventor & Owner
Is it possible to have fun and save the planet? We think so. That's why our dishwasher safe and portable, stackable wine glasses are also recyclable.
At HaloVino®, we're on a mission to create a world where living life to the fullest doesn't come at a damaging cost. We're focused on developing innovative and eco-conscious solutions to drinking wine in your favorite places. That's why our wine glasses are recyclable, reusable, and easy to take with you wherever you go. Next time you're out, tell the bartender you brought your own wine glass cup and tag us! We'd love to see where you #BYOHV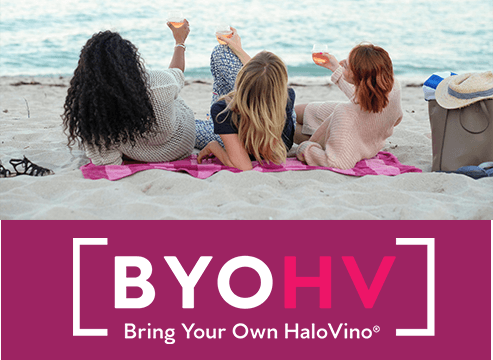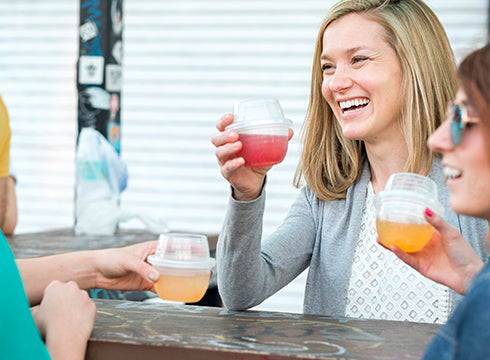 We're Hiring!
Wine drinking is not mandatory... but it doesn't hurt! Interested? Tell us more about you!
Wine (& Waste) Go Where You Go!
HaloTotes support your sustainable,on-the-go, wine-loving lifestyle! With our new water-resistant, dishwasher-safe HaloTotes, you can carry HaloVino tumblers in your purse, bag or backpack for use & reuse to help reduce single-use plastic.